Blue Cabin Virtual Film Series
Virtual Film Screening Series
The Blue Cabin's virtual film series explores local and national histories from Indigenous, Chinese-Canadian, environmental, archival and activist perspectives. From classic and contemporary NFB films to award-winning BC filmmakers, wind down your Thursdays by joining us for these extraordinary films from the comfort of your own home!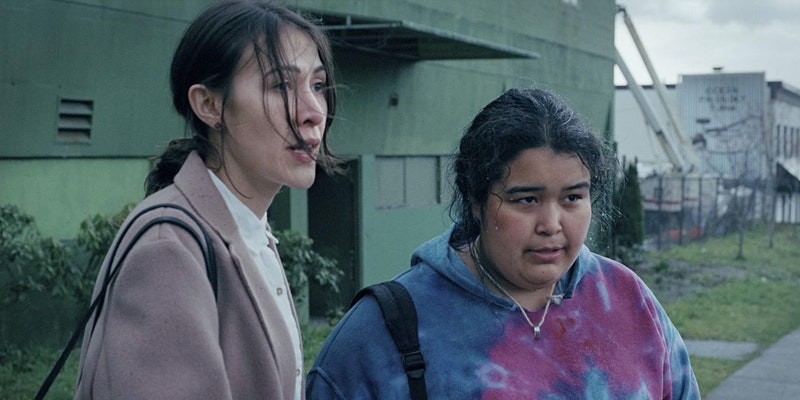 Thursday, July 16th, 2020, 7pm: THE BODY REMEMBERS WHEN THE WORLD BROKE OPEN (2019): Screening & Director Q&A
THE BODY REMEMBERS WHEN THE WORLD BROKE OPEN (2019) is an incredible and poignant collaboration by two exceptional Canadian filmmakers. Elle-Máijá Tailfeathers, a member of the Kainai First Nation as well as Sámi from Norway, triples as lead, co-writer, and co-director. She shares writing and directing with Kathleen Hepburn, whose 2017 film Never Steady, Never Still premiered at the Festival and was named to TIFF's Canada's Top Ten. Using 16mm and presenting their narrative in "real time," the filmmakers craft a delicate intimacy, which lends emotion to this remarkable story of two women's resilience, strength, and mutual support.
When Áila encounters a young Indigenous woman, barefoot and crying in the rain on the side of a busy street, she soon discovers that this young woman, Rosie, has just escaped a violent assault at the hands of her boyfriend. Áila decides to bring Rosie home with her and over the course of the evening, the two navigate the aftermath of this traumatic event. Inspired by a very real and transformative moment in the co-director Elle-Máijá Tailfeather's life, THE BODY REMEMBERS WHEN THE WORLD BROKE OPEN weaves an intricately complex, while at the same time very simple, story of a chance encounter between two Indigenous women with drastically different lived experience, navigating the aftermath of domestic abuse.
Run time: 1hr 45 min.
Both Tailfeathers and Hepburn will join us for a post-screening Q&A! This virtual event is free but registration is required. Register by noon on Thursday, July 16th, to receive the link. Register via this link.